Andrew Allen murder: 'Up to 12 people involved'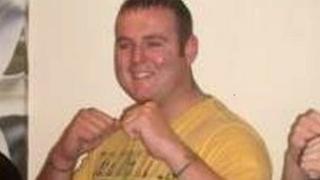 Irish police have said "up to 12 people" were involved in the murder of Derry man Andrew Allen, who was shot dead by a dissident republican group.
Mr Allen was killed in February 2012 at a house near Buncrana, County Donegal.
Republican Action Against Drugs (RAAD) admitted responsibility for the murder. Mr Allen's family have always denied claims he was a drug dealer.
Detective Inspector Patrick O'Donnell said: "those involved (in the murder) live and operate in Derry."
"This case is more complex than any other," said Mr O'Donnell.
"While a small number carried out the murder, others sourced cars, guns, clothing, provided transport and assisted in the preparation and the escape after the crime.
"We believe up to 12 people were involved in the murder.
"I would be confident of court appearances soon.
"I am appealing to those involved to come forward now and give closure to Andrew's family and partner."
Detectives have pursued around 500 lines of enquiry, resulting in the taking of 200 statements to date.
Two arrests have been made since the murder and numerous searches have been conducted on either side of the border.