'Good cops' in Sinn Féin and DUP outnumbered by 'bad cops'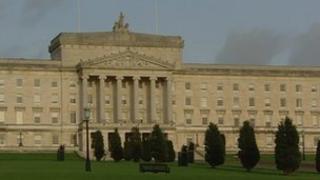 Nothing new in the DUP and Sinn Féin trading insults or claiming each other is pandering to extremes.
But there seems to be an extra level of sophistication in the latest mirror image machinations between the two incumbents at Stormont Castle.
Recently either side has been claiming that the other includes capable flexible people who - if only given the chance - would be more than happy to do deals and make progress on various log-jammed issues.
But these "good cops" have been outnumbered or outmanoeuvred by the "bad cops" within their own ranks, who for their own nefarious reasons prefer stalemate to compromise.
So last week the DUP's Nigel Dodds claimed there are some within Sinn Féin who see the practical argument for allowing the National Crime Agency to tackle drug smuggling and fuel laundering, but are being held back by "other elements within that party who simply refuse to accept the realities of life in government".
On welfare reform, the North Belfast MP praised the "more rational and sensible individuals within Sinn Féin who recognise the policy is not a creation of Stormont, but comes to us from Westminster".
Mr Dodds said that in private these Sinn Féin members had made it "clear that they know the hugely detrimental impact that not proceeding with welfare reform will have", but "there are others holding them back because they are not prepared to act like any other normal political party".
The North Belfast MP did not say it, but many in his party will tell you that Sinn Féin's anti-austerity stance in the south outweighs its more pragmatic approach in the north.
'Naysayers'
Not to be outdone in praising the other side's "good cops", Martin McGuinness told his party's ard fheis that "there are senior people in the DUP and I believe throughout political unionism, who know that our political institutions are the only show in town. They know and recognise the reality that we have transformed the situation the north".
But these progressive types are subject to the whims of the "bad cops", the "naysayers" ..."who were uncomfortable first with the notion of sharing power with Sinn Féin and secondly at the relationship which developed between Ian Paisley and myself".
The deputy first minister appealed to "those unionists who wish to see progress, to break free of the rejectionists and negative forces, and lead from the front. Our communities are stronger together".
So has Peter been taken hostage by Nigel and Gregory? Or is Martin being held in a darkened room by Gerry? Or are they all suffering from Stormont Stockholm syndrome?
Into this rumour mill fell the news that the former IRA hunger striker Leo Green was no longer Sinn Féin's northern political director, having been replaced as northern chair by senior republican Bobby Storey.
Although he has not had the same public profile as his fellow advisers Mary McArdle or Paul Kavanagh, Mr Green - adviser to Bairbre De Brún in the first executive - has long been an important behind the scenes thinker for Sinn Féin.
Some DUP sources whispered that Mr Green had been reluctantly persuaded of the need for a welfare reform deal.
On his blog, the Social Development Minister Nelson McCausland asked whether Mr Green's resignation was "due to a personal dispute or an issue of policy, or is it part of a wider unrest in the ranks of republicanism?".
Mr McCausland continued: "Now that I think about it I haven't seen him in the corridors at Stormont for the past few weeks, and indeed the more that I think about it, he is not the only Sinn Féin adviser who has been noticeable by his absence. So clearly all is not well in the world of Sinn Féin."
Sinn Féin sources rubbished the minister's speculation.
On the BBC's conference programme I asked Alex Maskey about the reported departure of Mr Green and fellow adviser Jackie McMullen.
He told me: "There are no policy issues, because the people you are talking about remain in the party. That's entirely a matter for themselves. Our party is completely united on an anti-cuts agenda. We are doing what we can north and south to tackle that agenda.
"I think Nelson McCausland should look around at his own benches at the discomfort among his own MLAs at the prospect of having to impose the kind of measures that Nelson would have been quite happy to impose a year ago."
Late on Saturday night, Mr Green came back to me to clarify that he remains a member of Sinn Féin, having renewed his party membership a fortnight ago.
Storm in a teacup
He declined to comment on DUP speculation about why he was no longer northern political director, other than to say that he was "not at odds with party on policy matters".
So was the Leo Green story just a storm in a teacup?
Unless and until the man himself says any more, that's what it looks like.
Perhaps now both party's conferences are out of the way, the flexible "good cops" will once more get their way, as the unblocking of the log-jammed £80m Social Investment Fund points the way towards a new phase of harmony.
But then, with an election coming, perhaps the "bad cops" will again assert themselves.
One thing puzzles me about the Stormont "good cop, bad cop" act.
Why if they truly want the other's "good cops" to succeed, do both parties seem so keen to expose their potential allies' setbacks to as much destabilising scrutiny as possible?