Dog fouling: Belfast City Council's call to amend legislation fails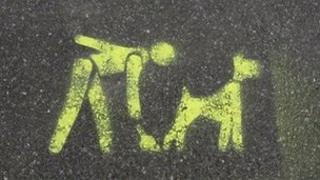 A plan to force dog owners in Belfast to carry bags or other means to clean up after their pet has been rejected by the Department of the Environment (DoE).
Belfast City Council lobbied the DoE to introduce a law to make it an offence.
The proposal is contained in a Belfast City Council dog-fouling action plan.
It would have enabled dog wardens to issue fixed penalty notices to dog owners without bags or other means to clear up after their dog.
However, the DoE decided not to amend the current legislation.
It is currently an offence for a dog-owner to fail to remove excrement left by their dog.
Owners can face a fixed penalty of up to £80 if they are caught allowing their dog to foul a public area.
Belfast City Council issued 232 fines to dog owners on that basis in 2013.
They have also provided dog wardens with cameras to aid the enforcement process, and are considering providing dog-fouling bags in public parks.
Councillor Stephen Corr, who chairs Belfast City Council's Health and Environmental Services committee, said their proposal was only one of a number of ideas to tackle the problem.
"I don't know how enforceable that would be," he told BBC's Good Morning Ulster.
"To stop and question someone to produce a dog-fouling bag is not that practical in essence."