Omagh: HMRC dismantles fuel-laundering plant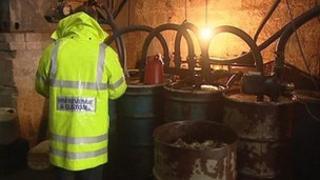 A laundering plant capable of producing 3.6m litres of illicit fuel and evading around £2.5m in taxes a year has been dismantled in County Tyrone.
HM Revenue and Customs (HMRC) officers discovered the plant hidden in a shed at a private address in the Omagh area.
More than four tonnes of toxic waste, the by-product of the laundering, and nearly 3,000 litres of illicit fuel were removed during the operation.
A man is helping HMRC with its inquiries.
Pumps and equipment were also seized by HMRC officers during the operation on Friday.
Pat Curtis, of HMRC, said: "Every illegal laundering operation typically generates tonnes of toxic waste, involving significant safety and environmental issues.
"As taxpayers and local ratepayers, not only are we missing out on the stolen tax that ends up in the pockets of the criminals, we are also paying the substantial clean-up and disposal costs.
"It is wrong that honest businesses should be undercut by criminals and those involved in making or selling laundered fuel.
"Buying illicit fuel not only funds crime, it supports and encourages these dangerous activities within our communities."