Belfast's Odyssey Trust to review drink and drugs gig incident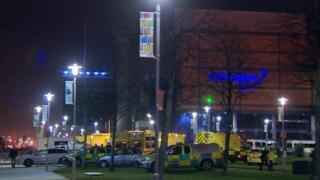 The Odyssey Trust in Belfast is to carry out a review of the events at a concert in the venue last week.
A total of 108 young people were treated for the effects of alcohol and, in some cases drugs, at a gig by DJ Hardwell on Thursday, 6 February.
The Northern Ireland Ambulance Service declared the scene outside the concert as a "major incident".
A charity worker who helped to treat people at the scene told the BBC it was "like a disaster zone".
The review will be chaired by the chief executive of the Odyssey Trust, Robert Fitzpatrick.
In a statement the trust said it will meet with all of the relevant stakeholders involved; assess the preparation and event plan made for the night; the implementation of that plan and the effectiveness of the Odyssey Arena and its partner organisations to deliver that plan.
The review is expected to be completed by Friday, 21 February.
Seventeen people were hospitalised during the incident, and police arrested three people and seized a small quantity of drugs outside the venue.
The police are also due to meet the Odyssey management.
On Friday, a DJ Hardwell gig in Edinburgh was cancelled when its licence was withdrawn in the wake of the Belfast incident.