Royal Victoria Hospital A&E review hears system 'dysfunctional'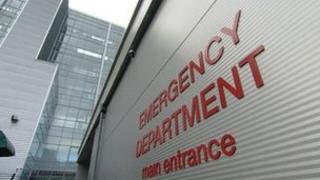 Not enough medics are available at times in the Royal Victoria Hospital's (RVH) emergency department to properly treat patients, inspectors have found.
Health Minister Edwin Poots has been giving MLAs the initial findings of a review set up after a major incident was declared over a patient backlog.
About 100 staff who were interviewed raised concerns about staffing levels, bullying, intolerable pressure and a dysfunctional healthcare system.
Mr Poots said it was "disappointing".
He said the review, conducted by the Regulation and Quality Improvement Authority (RQIA), reflected "unacceptable experiences" from both patients and staff at the Belfast hospital.
The external team was commissioned by the minister after a major incident was declared at the hospital last month due to a large backlog of patients at the emergency department.
Staff and patients said conditions at the emergency department were "horrendous".
'Great complexity'
The minister said it appeared that concern about targets for emergency care "may have led to some unacceptable behaviour by some staff on some occasions".
He urged assembly colleagues to "recognise the great complexity of the situation".
"If easy solutions were available they would have been adopted," he said.
Mr Poots said the RQIA would report back to him in June on its wider review of accident and emergency services at the Belfast Trust and across Northern Ireland.
Stormont health committee chairwoman Maeve McLaughlin of Sinn Féin described the initial findings as "quite damning".
She asked the minister if he now accepted that there was a crisis in acute emergency care.
Mr Poots said there was a focus on relieving the pressures on staff, and that the pressure "comes back to this house" where MLAs were demanding higher standards.
Ulster Unionist Roy Beggs asked whether the minister's decision to commission the review was based on a forthcoming BBC Northern Ireland Spotlight programme on accident and emergency services.
The minister said he hoped the programme would not prove to be another attack on the health service.
He said he had asked the RQIA to inspect the RVH before he heard about the programme, to be broadcast on Tuesday.