Shadow NI Secretary Ivan Lewis to meet Army killings group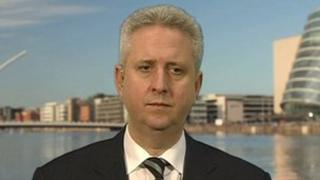 Shadow Northern Ireland Secretary Ivan Lewis is to meet the families of 11 people killed by the Army in Belfast more than 40 years ago.
The killings happened in Ballymurphy over a three-day period in August 1971.
A priest and a mother of eight were among the civilians shot dead by the Parachute Regiment.
Mr Lewis said: "I will be meeting with them, engaging with them and clarifying with them what our position is in the nature of any course."
It is understood the meeting will taken place in Belfast next week.
The families have also asked for a meeting with Prime Minister David Cameron in their efforts to set up an independent investigation into the killings.
Speaking on the BBC's Sunday Politics programme, Mr Lewis said that if they had requested to meet him, then Mr Cameron should do so.
Irish Prime Minister Enda Kenny met the families in Dublin at the end of January and gave his support to their campaign. He said he would raise the matter with Mr Cameron.
The group has also taken their campaign for an independent investigation to Europe.
Last year, the families said they wanted former police ombudsman Nuala O'Loan to chair an independent panel. Its remit would include examining all documents and papers relating to the deaths.
The seven-strong panel would also include Prof Phil Scraton, author of the independent Hillsborough report into the deaths of 96 football fans in 1989, and civil rights lawyer Gareth Pierce.
The relatives said the panel should report within 12-18 months, and should be funded by the British and Irish governments.
Its work would reflect the terms of reference of the government-funded Hillsborough Independent Panel. The group also wants an apology from the government.
The Ballymurphy shootings took place hours after the government introduced a policy of internment - the detention of paramilitary suspects without charge or trial.
The Parachute Regiment was involved in an operation in Ballymurphy to arrest people suspected of paramilitary activity.
The troops said they opened fire after they were shot at by republicans.
A Catholic priest, Fr Hugh Mullan, was shot as he went to the aid of a wounded man.
In June 2012, the former Northern Ireland secretary, Owen Paterson, turned down the campaigners' request for an inquiry.
The families said Mr Paterson told them it was "not in the public interest".