Facebook row led to man being stabbed, court told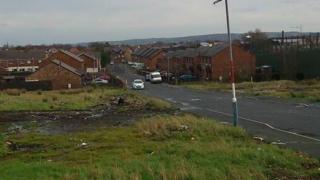 A row on Facebook led to a man being stabbed in north Belfast, a court has heard.
Stewart Mercer, 23, from Glenbyrn Park in the city, allegedly used a kitchen knife to stab Darren Scott, 28, in the chest, after the victim arrived at his home early on Sunday morning.
Mr Mercer, faces charges of wounding with intent to do grievous bodily harm and possession of an offensive weapon with intent.
He was refused bail.
Belfast Magistrates' Court heard that Mr Mercer lived close to the injured man and others who were at the scene.
Opposing bail, a detective constable said: "This whole incident stemmed from a Facebook argument between some parties involved and initiated by the defendant.
"There was a background of bad blood before this started."
The officer also claimed Mr Mercer's self-restraint could have been impaired by drug addiction.
Following his arrest, Mr Mercer told police he had a dependency on alcohol, cocaine, speed and heroin, the court heard.
Although the detective acknowledged his remarks may have been facetious, he said it was several hours before he was fit for interview.
Under cross-examination, it was accepted that the accused and the alleged victim gave significantly different accounts of what happened.
The accused claims Mr Scott targeted him first after arriving with others in two cars and kicking his door in.
A defence solicitor said: "It's accepted this wasn't a slash or overhead stabbing attack (by Mr Mercer).
"It appears to be a jab with a knife underarm, which he says was a result of Mr Scott swinging a metal baseball bat at him and his partner.
"This is not a situation where Mr Mercer has taken himself outside his property and its a stabbing in the street."
The judge refused the bail application because of the risk of re-offending and fears of possible interference with witnesses.
Mr Mercer was remanded in custody to appear again by video-link on 10 March.