Funeral for Leila Webster, comedienne and singer from Belfast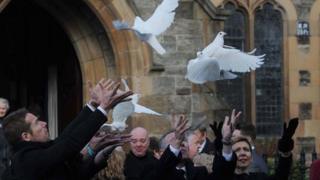 The funeral for Leila Webster, the well-known Belfast actress and comedienne, has taken place.
She died last week at the age of 90. Leila Webster was born in Rutland Street in south Belfast and started singing when she was 10 years old.
Her first public performance was for the armed forces at May Street Church.
During her career, she worked alongside world-famous stars like Bob Hope and Josef Locke. She also worked with Northern Ireland playwright Sam Cree.
She appeared on screen with the actor James Young.
She was cremated on Monday morning and a memorial service was held at Mary Magdalene Church of Ireland at Donegall Pass, Belfast.