Colin Neill of Pubs of Ulster calls for underage drink prosecutions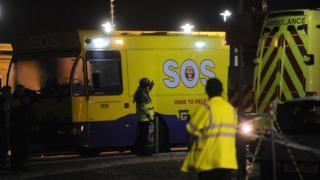 A drinks industry boss has called for anyone who supplied alcohol to underage drinkers to be prosecuted, in the wake of a major incident in Belfast.
Colin Neill, chief executive of Pubs of Ulster, was speaking after scores of young people attending a concert at the Odyssey Arena had to be treated for the effects of alcohol or drugs.
"Somewhere in this chain, an adult has been involved," he said.
"It had to be purchased, it had to be given to these kids," he added.
"We actually think there has to be an inquiry into this.
"People should be prosecuted, whether that's a pub, an off-sales, a supermarket or indeed a parent."
A spokesman for a watchdog set up to investigate complaints about irresponsible alcohol promotions said the events were "shocking".
'Parental control'
Duncan McCausland of the Independent Complaints Panel for the Responsible Retailing of Alcohol Code said: "I would call on those selling alcohol to make sure they are not selling it to people who are underage.
"I would also urge parents to exercise parental control and make sure that young people are not drinking excessively at home before going on a night out."
Alan Mains, a former police officer who is responsible for security at part of the Odyssey complex, was called to the scene on Thursday night as the situation progressed.
He told BBC's Good Morning Ulster on Friday that a lot of planning had gone into ensuring all eventualities could be dealt with.
"We had a security forum where we discussed all the eventualities," he said.
"We talked to the bus companies to make sure there's no alcohol on buses, but then not everyone arrives by bus. When they did arrive last night, those suffering the effects of intoxication weren't getting in."
Mr Mains, who works for Utopian Leisure, added that despite the chaos, a lot of young people had enjoyed the event.
'Overwhelmed'
"It would appear the whole thing got out of hand very early, certainly what I witnessed afterwards, but the SOS Bus did a fantastic job. They were just phenomenal as usual.
"The key point here is that they picked it up very early. The ambulance crew were down and equally did a fantastic job but they were overwhelmed.
"As far as the planning's concerned all the eventualities that could have happened, I suppose, worst case scenario, did happen last night.
"But to put it into context, there were also a lot of children there last night who enjoyed themselves and had a great time.
"Unfortunately we're dealing with these people who do their pre-loading, and there are parental issues as well."
In a statement, Odyssey Arena general manager Adrian Doyle said: "Both the PSNI and Community Enforcement Teams from Belfast City Council were on the ground at the event confiscating alcohol that was in the possession of patrons as they arrived at the Odyssey.
"In anticipation of any patrons being turned away at the door for any reason, the support services of the SOS Bus were also deployed.
'Irresponsible'
"Stringent ID checks were in place under the 'Think 21' guidelines for any patrons wishing to purchase alcohol within the Odyssey Arena, with patrons required to produce a valid passport or driving licence as proof of ID.
"Purchase of alcohol was limited to two drinks per ID, and all alcohol sales were stopped at 9pm."
A spokesperson for the Department of Social Development said: "The minister is concerned, and has been for some time, about irresponsible drink promotions which encourage customers to drink more alcohol than they had otherwise intended to consume.
"For many years it has been illegal to serve alcohol to someone who is clearly intoxicated and in 2013 the minister banned drinks promotions that involved unlimited drinks for a fixed fee, for example, all you can drink for £20.
"The enforcement of alcohol licensing is a matter for the PSNI. If any licensed premises serve anyone unlawfully it is a matter for the PSNI to investigate."