Lurgan alert: Explosive device found in Crozier Park search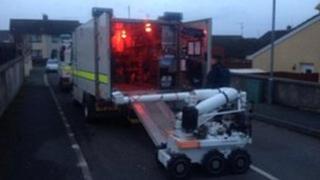 Army bomb experts have dealt with an explosive device in County Armagh.
The device was found at a house in Crozier Park, Lurgan, during a planned search by police investigating serious crime.
Residents were moved from their homes for a time while security forces examined the object.
A police spokesman later said it was found to be a "viable explosive type device", and it was taken away for further examination.
He said searches of the property at the centre of the alert had resumed.