Belfast, Dublin and Westminster ministers in Singapore trade mission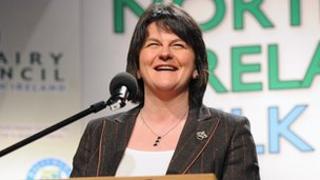 Ministers from Stormont, Dublin and Westminster will go on their first-ever joint trade mission next week.
The trip to Singapore is focused on aviation, which is one of Northern Ireland's main manufacturing sectors.
The ministers on the trip will be NI Enterprise Minister Arlene Foster, her Dublin counterpart Richard Bruton and UK Transport Minister Stephen Hammond.
Its focus will be on the Singapore Airshow, which is Asia's largest and one of the most important in the world.
The mission is being billed as part of a programme of co-operation to strengthen Anglo-Irish relations over the next decade, led by Prime Minister David Cameron and Taoiseach (Irish Prime Minister) Enda Kenny.
'Combined strengths'
Arlene Foster said: "I am delighted to be leading a group of Northern Ireland aerospace companies in this first visit to Singapore Air Show, and welcome the opportunity to promote the world-class capabilities of Northern Ireland aerospace.
"In Northern Ireland, aerospace generates revenues in excess of £1bn and employs over 8,000 highly qualified staff."
Richard Bruton said: "This joint mission is an important part of a wider programme of co-operation between Ireland and the UK.
"This first joint mission has attracted an impressive list of companies from Ireland, Northern Ireland and the UK that will demonstrate our considerable combined strengths in the aerospace sector."