University of Ulster: Car park for new campus gets go-ahead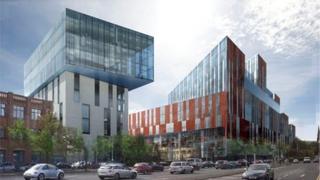 The University of Ulster has been given the go-ahead to build a multi-storey car park for its new Belfast campus.
The original proposal for a 487-space car park on Frederick Street was rejected because it was too large and would have had too great an impact on residents.
The university has agreed to reduce the height of the building by 6m (19.5ft) and its depth by 1.4m (4.5ft).
The car park will now have 355 car parking spaces across five levels.
It will also have 200 bicycle parking positions on the ground floor.
Objections
Planning permission for the new campus, on the northern edge of the city centre, included the condition that it must provide 350 parking spaces.
The case was heard at the Planning Appeals Commission (PAC).
The scheme had also faced objections from some local residents and the Housing Executive because it will be built on land that is zoned for social housing.
However, the PAC ruled that the benefits of the wider redevelopment proposal outweighs the loss of sites for around 30 social housing units.
The university's scheme involves the construction of three buildings at Frederick Street, Donegall Street and Great Patrick Street.
Around 12,000 students are expected to use the new facilities on courses relocated from the Jordanstown campus in County Antrim.
Demolition and preparatory work is under way with construction expected to begin in 2015.