Giro d'Italia: Northern Ireland told to 'go pink' for cycle race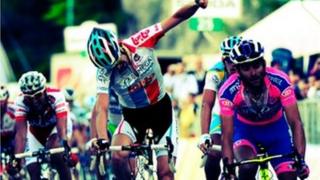 People in Northern Ireland are being urged to "go pink" to celebrate the arrival of the Giro d'Italia cycle race in Belfast later this year.
Pink is the traditional colour of the event as it is the colour of the jersey worn by the race leader.
Schools, businesses, pubs and restaurants are being asked to use the colour scheme to mark the hosting of the famous race over three days in May.
The Giro is expected to attract tens of thousands of visitors.
Susie McCullough, who is on the race committee, said: "We're asking everybody to go pink.
"Pink is the colour of the Giro itself so dress your school up, dress yourself, create a community art piece, pink ice cream, pink coffee, or use our brilliant Northern Ireland food to create a special menu. Think all things pink."
Ms McCullough is the events director at the Northern Ireland Tourist Board.
'Excited'
Paul Manton, manager of McConvey Cycles in south Belfast, is already preparing to turn his shop pink.
"It's exciting," he said. "We're going to see professional athletes from all over the world. You don't get to see that very often in Northern Ireland.
"It's the biggest sporting event ever here so I think everybody should be excited about it, not just cycle fans."
A total of 22 teams will compete in the three stages in Northern Ireland. Most of the top 200 cyclists in the world are expected to take part.
The three-week long Giro is hosted primarily in Italy but since 1996 the Grande Partenza (big start) has been hosted outside the country, most recently in Denmark.
It is the world's second-largest cycle race and last year's Giro was broadcast in 165 countries, with an estimated global audience of 775 million people.
The three stages that will start in Northern Ireland are:
Friday 9 May - Team time trial from Belfast city centre to Stormont and back
Saturday 10 May - Belfast to Causeway Coast and back
Sunday 11 May - Armagh to Dublin
The Belfast stages are expected to start in the Titanic Quarter and finish at the city hall.