Boys' Model School: Teacher Catherine Seeley to leave after sectarian abuse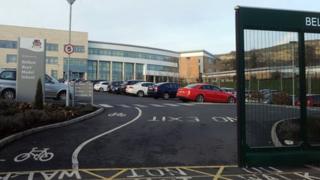 A teacher at a north Belfast school who became a target for sectarian online abuse is to leave the school.
Catherine Seeley is to move to another education board area.
In a joint statement, the board of governors at the Boys' Model School and the Belfast Education and Library Board (BELB) said they are supporting Ms Seeley in her decision.
She was subjected to abuse after she was recently co-opted as a Sinn Féin councillor in Craigavon, County Armagh.
Her employment at the school in the loyalist Ballysillan area was objected to by the Protestant Coalition group.
It said her role at the school should be looked at because of her political views.
Redeployment
The joint statement from the board of governors and BELB said: "During a series of meetings in recent days, the principal and board of governors of Belfast Boys' Model school has reinforced their support for Ms Seeley to facilitate her resumption of normal teaching duties at Belfast Boys' Model.
"This approach has also been endorsed and supported by the BELB.
"While acknowledging the support of the board, school staff and pupils, the teacher has decided not to return to her duties at Belfast Boys' Model.
"As a result of this decision, BELB had initially explored a redeployment option within the board area. In accordance with the teacher's wishes however, it is now actively seeking a teaching redeployment position within another board area."
Teachers' union, the Irish National Teachers Organisation, said no-one should have to put up with being threatened, and called on those responsible to lift the threats.
On Tuesday, Education Minister John O'Dowd paid tribute to pupils at the school who spoke up for Ms Seeley.
Mr O'Dowd, a Sinn Féin MLA, said the pupils who had backed her on social media sites had demonstrated "courage and vision".