Gino/NV clothing chain owners declared bankrupt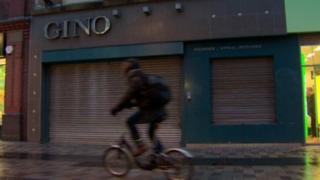 The former owners of the Gino/NV clothing chain in Northern Ireland have been declared bankrupt.
The business was placed into liquidation last week with the closure of around 12 shops and the loss of 150 jobs.
Gino and NV specialised in casual fashion for teenagers and young adults.
It was owned by the Portadown-based Nath Bros Partnership that was controlled by members of the Sabherwal family.
They are Bimla and Jagdish Sabherwal from Portadown, and Shanti Sabherwal from Tandragee, County Armagh, and Pardeep Sabherwal from Hillsborough, County Down.
In 2010, the business took over some of the shop units that were vacated by the downsizing of the Clockwork Orange chain.
Seamas Keating of FPM Chartered Accountants is acting as liquidator.