Bombardier gets solar panel go-ahead for Belfast wing-assembly plant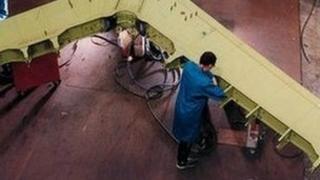 Bombardier has been granted planning approval to cover the roof of its wing-assembly plant in Belfast with solar panels.
The roof has an area of five hectares - the equivalent of six large international football pitches - and the panels will produce 3.8MW of power.
The company has also received approval for a biogas combined heat and power unit at the Belfast site that will have the capacity to produce 500kw of power.
Biogas is produced by decomposing organic matter such as animal waste in a process known as anaerobic digestion.
This gas is then used to power an engine unit that converts it to mechanical energy and then to electricity.
Energy costs are one of Bombardier's biggest overheads, and it has embarked on a strategy to focus on renewable energy as a way to manage future rises in electricity costs.
Turbine
It has planning permission to build another biogas unit at its Newtownabbey factory.
Last month, it also got the go-ahead for its biggest scheme; a gasification power station at the Belfast plant.
It will convert 120,000 tonnes of commercial and industrial waste annually into electricity and heat using a gasification process.
Gasification plants operate by heating waste to produce a gas that is used to generate steam.
The steam then drives a turbine that creates electricity.
According to the planning application, the plant will take 18 months to build.
The project will significantly reduce energy costs.
Currently Bombardier pays three times more for power in Belfast than it does at its sister facilities in North America.