Scottish and EU referendums: The effect on Northern Ireland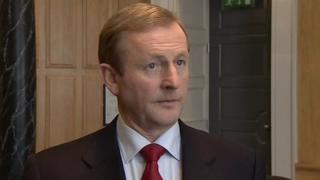 While Northern Ireland's Deputy First Minister Martin McGuinness aims a few fresh barbs at First Minister Peter Robinson on the eve of another Sinn Féin Ard Fheis (annual party conference), others have been surveying the wider scene.
The Irish prime minister, Tony Blair's former chief of staff and the DUP MP for North Antrim have all been ruminating on what changes in Scotland or Europe might mean for Northern Ireland.
During a debate in the Irish parliament, Taoiseach (Prime Minister) Enda Kenny said it "matters to us all on this island, north and south, how the people of Scotland vote in their referendum on independence this September".
"A yes vote for independence would obviously have an impact on Northern Ireland."
'Delicate time'
Mr Kenny did not expand. But in a piece written for Thursday's Financial Times, Mr Blair's former chief of staff Jonathan Powell does explore the potential consequences.
Mr Powell wrote that a Scottish yes vote "would open up the constitutional question in Northern Ireland at a very delicate time".
He said republicans would up the ante on a border poll and unionist thoughts might drift towards greater autonomy.
North Antrim MP Ian Paisley Jr has been thinking along the same lines.
On the floor of the Commons, Mr Paisley asked a Conservative MP: "Do you agree with me that the unnerving and unsettling effect that a division in this wonderful union would have is that it would get the tails up of Irish republicans in my part of the kingdom, and would drive another wedge into the hearts and souls of people in Ulster?"
'Peace process'
Both Enda Kenny and Jonathan Powell set their concerns about Scotland within the context of the UK's wider relationship with Europe.
Mr Kenny told the Irish parliament that "it matters very much to us, north and south, how Britain renegotiates its membership of the EU and how it votes in a future referendum on EU membership".
"Ulster farmers have been big winners from the Common Agricultural Policy," the taoiseach said.
"Northern Ireland has also benefited from a strong EU regional policy and the cross border Interreg programme.
"The EU has been a very active political and financial supporter of the peace process.
"Were Britain to leave the EU, it would have very serious consequences for Northern Ireland and for enhanced north south co-operation," Mr Kenny added.
Mr Powell has also been staring into his crystal ball, envisaging a future in which an independent Scotland has rejoined the EU, the Republic of Ireland remains a member, but the rump UK decides to leave.
'Nightmare'
"With a patchwork quilt of memberships of the EU," Mr Powell surmises, "we would have to impose travel restrictions between Northern Ireland and the Republic of Ireland, and between Scotland and Northern Ireland.
"The notion of policing those two borders is a nightmare, and that is what really bothers policy makers in Dublin and Belfast."
With the latest YouGov poll pointing to 52% of Scottish people backing the union, against just 33% opting for independence, all these expressions of concern may turn out to be academic.
A Scottish no vote would still have implications for Northern Ireland in terms of the devolution of corporation tax or the transfer of other powers.
However, those consequences will be rather less seismic than the likely fall-out from a yes vote.
That will not stop politicians on both sides of the Irish Sea becoming amateur futurologists until the votes in September's Scottish referendum are counted.