Scottish referendum: Yes vote 'unnerving for Northern Ireland'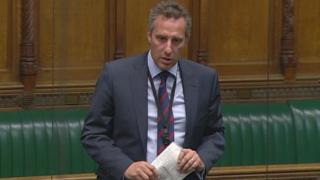 A vote for Scottish independence would drive a "wedge into the hearts and souls" of Northern Ireland, an MP has claimed.
Democratic Unionist Party MP Ian Paisley Jr was speaking against a yes vote in the Scottish independence referendum on 18 September.
He said that a "division in this wonderful union" would have "an unnerving and unsettling effect".
A yes vote would "get the tails up of Irish republicans", he said.
"It would drive another wedge into the hearts and souls of people in Ulster," he added.
Sir Gerald Howarth, who had been speaking against Scotland leaving the United Kingdom during a debate in the House of Commons, replied: "Of course you are absolutely right to make that analogy, and to point to the consequences - the unforeseen consequences - to which the Scottish National Party does not wish to draw attention."