Garth Brooks: Five Irish shows sold out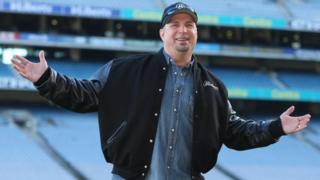 All five of American country star Garth Brooks' Irish concerts in the summer have sold out within hours.
In the region of 400,000 people have now grabbed tickets for the gigs in Dublin's Croke Park in July.
The star's first three concerts sold out within 90 minutes of being released on 30 January.
Brooks, 52, confessed the ticket frenzy had left him "flattered, humbled and scared to death".
On Thursday, tickets for a fourth date went on sale and were quickly gone. A fifth date was then announced and it was a similar story.
Aiken Promotions said it was the first time an artist would play five consecutive sold-out dates at the Irish venue.
Despite his huge success, Brooks retired while at the peak of his career in 2001.
He announced in 2009 that he would come of out of retirement and is now embarking on a world tour.
Earlier this week, the star the BBC that Ireland was the best place in the world for him and his favourite place to sing.
It has been 17 years since his last concert in Dublin.
Brooks said his job was to give his fans "something better than before": "Our job is to bring a show that is better than 1997 and, hopefully, we will have more fun."
Garth Brooks is one of America's most iconic country stars with a career that has seen him become one of the best-selling artists of all time.
He has sold more than 125m albums with hits such as The Thunder Rolls, Friends in Low Places and Unanswered Prayers.
Garth Brooks Irish concerts are on 25-29 July.