The Life and Times of Master Hamilton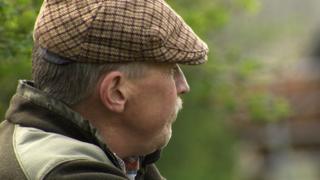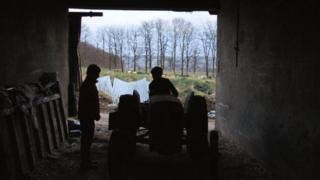 Andy Hamilton is master of the hunt; master of misty fields and yellow whin bushes; of snorting horses and lollicking dogs.
But every week he took the lonely road to the city and a world where he was not the leader and was led where he did not want to go.
It was the sterile world of the hospital ward: white starched sheets: the slow drip of chemo drugs.
Those were the Life and Times of Master Hamilton.
A documentary for BBC1 Northern Ireland has painted a portrait of a man with steel nerves who would not let a touch of cancer get him down.
A man with an incurable disease, but also raucous, irreverent, devil may care. That was the portrait he liked to show the world.
Six years before this documentary was filmed, he had a lump in his neck and it turned out to be a tumour in the base of his skull.
It was inoperable. The doctors thought he might have six months.
But he stood up strong and stared death in the jowls... it could be said, he hunted it.
"I don't want any oul' sadness, there's no point. That day will come at some stage, but I'm not ready for it yet," he said.
This portrait of Andy Hamilton tracked the 52-year-old through his everyday world of hunting, horse dealing, racing and weekly chemotherapy visits.
On his farm in north Antrim, he strode through the muck and the clabber and took his young sons out to gallop through the fields in the shadow of Slemish - the mountain where, legend has it, St Patrick once herded sheep.
It is a strange, wild, beautiful world dear to Andy's heart.
Imagine of an evening the soft stillness of a horse's breath, the white dove a-flutter at the barn window, the dark shadow of the combine harvester in the farm yard, the silver glint of an old teapot on the range.
Joe is Andy's older boy. "Da's not gonna be there forever. I have to be able to do it all before he goes," he said.
Joe feels for his little brother: "Bob never got a chance to see his daddy when he didn't have the cancer."
The documentary followed father and son on a trip to buy and sell the horses that Andy loves.
They went with one to sell and returned with two. Andy could not resist.
"I bought that horse like a fool," he sighed. "We arrived with one horse to sell and we are going home with two: buy one, get one free."
Andy's wife, Judith, found it tough but, as a farmer's wife, she gets on with it.
"He gets down, it is hard. We don't talk about it that much," she said. On the phone, she called him "pet lamb".
From all the muck of a life with cancer, moments of tenderness sprung like roses.
The cameras took us to Andy's last hunt as joint master of the Mid-Antrim Harriers.
He told it like it is from his role as master of the hunt, from astride his horse in his huntsman's jacket, his hard hat, a glass raised to toast the crowd in his hand.
"It's probably the last time you'll see me on a horse. I have made it 'til the end of the season and that'll be it," he announced to the crowd. There was a tear in his voice as they cheered him on.
From his hospital bed, he spoke frankly about his impending death: "I don't want to crawl about. It is soul destroying for the boys. I don't want their last memories of me to be a real grumpy, miserable oul' bastard that died in misery."
True North: Life and Times of Master Hamilton is on BBC One Northern Ireland on Monday 10 February at 22:35 GMT