Altnagelvin Hospital in £285K NI Water bill refund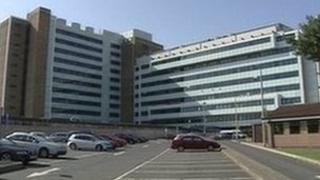 Altnagelvin Hospital in Derry is to receive more than £285,000 as a result of a refund from Northern Ireland Water.
The hospital's water and sewerage bill had been wrongly calculated, a Consumer Council investigation found.
Aodhan O'Donnell of the Consumer Council said: "The important thing is that a precedent has been set.
"For the 19 other hospitals, there's a tried and tested approach they can take to get refunds."
Water and sewerage bills for hospitals have two separate charges.
One is for standard usage, while the other is for trade effluent, such as water generated from things such as laundry services, laboratories and hydrotherapy units.
Legislation that came into effect in 2008 changed how hospitals were charged for the second type of waste.
However, the Consumer Council found that NI Water had only applied the new charges from 2010 and the hospital was therefore entitled to a rebate.
In a statement, NI Water said it welcomed the successful outcome of negotiations.