Cameron and Villiers 'fudged Haass response' - Adams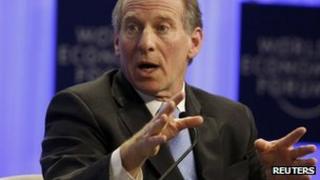 Gerry Adams has accused David Cameron and Theresa Villiers of "fudging" their response to former US diplomat Richard Haass' proposals on parades, flags and the past.
The Sinn Féin president told the Irish parliament the dispute over the union flag in Belfast and violence linked to parades had "placed a significant strain" on the political institutions.
Mr Adams accused unionists of "failing their constituents and ignoring the desire of the vast majority of citizens who want to see agreement".
Negotiations chaired by Dr Haass and Prof Meghan O'Sullivan broke up on 31 December without reaching consensus on their final blueprint, but Northern Ireland's five executive parties are continuing to hold talks about the issues.
'Confidence'
Irish deputy prime minister Eamon Gilmore said agreement on parades, flags and the past would "inspire a new sense of security and confidence across communities in Northern Ireland".
Mr Gilmore, who is minister for foreign affairs, said his government would provide full support as the Stormont parties complete their work on these issues.
He reiterated Dublin's backing for a revival of the Civic Forum, a new Bill of Rights and an Irish language Act.
Fianna Fáil leader Micheál Martin said the majority of people believed the Northern Ireland Assembly was achieving little, and said successive surveys suggested a "growing detachment and disillusionment".
"The refusal of the two governments to participate directly in the process, and their refusal to play any role in challenging the dysfunction of the executive, gave the Haass process little hope of reaching a comprehensive conclusion," he said.
Mr Martin said he welcomed that the Stormont parties were still holding talks, but argued that "the time has long since come where the governments should assert their legitimate roles in the process and seek a significantly increased involvement".