Snapping the Rolling Stones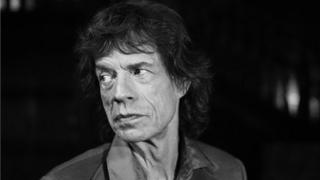 They were once the wild men of rock but the Rolling Stones were perfect gentlemen for one photographer.
Michael Donald, London-based for 20 years and originally from Belfast, was given rare access to the group.
As Michael said: "The band has not sat for one photographer for many years."
He is now exhibiting a selection of his photographs in Mayfair at the suggestion of Stones guitarist Ronnie Wood, in co-operation with designer John Pasche.
The photographs of Mick Jagger and Charlie Watts were shot at Stargroves, the isolated country house in Hampshire that Jagger bought in 1970.
"They had started recording their album there before realising they had to go into tax exile a year later," he said.
The group recorded the rest of what would become Exile on Main Street in the south of France and Los Angeles.
"Charlie hadn't been back to the house since, so walking around with him reminiscing was fascinating," said Michael.
"Charlie pointed out where he had put his drum kit in a bay window. He said he would come down during the week, to work and go home at the weekends.
"He remembered that there had been no furniture and never anything to eat.
"Waiting for Mick, he spent quite a bit of time in the kitchen drinking tea and chatting to the elderly couple that now lives there.
"Mick sailed in like he'd never left, making himself at home."
On one occasion, when Michael and Charlie Watts were waiting for Jagger to arrive, the photographer noticed that when the drummer sat on the end of the settee, he turned his feet "the whole way out".
"It had a wonderful symmetry. When I came to shoot him much later I asked him to do it again," Michael said.
"He though it mildly amusing, one, that I had noticed, and, two, that he was being asked to do it again."
He said his photograph of Ronnie Wood with his hands over his face, was "a moment that just happened".
"He was tired and we'd been shooting for about half an hour. He wanted to take a short break.
"I said okay and relaxing, he struck this pose. He really likes it."
The shot of Keith Richards was taken on location in Manhattan in New York.
"He was delightful, funny and had a surprisingly good memory of events of the early 70s. The photo-shoot actually appears in the film, Stones in Exile."
The exhibition, called Ronnie Wood invites, is being held in Mayfair Castle Fine Art in Bruton Street and runs from 4 February until 23 February.
Michael Donald said the photographs would be exhibited on "a rolling basis and changed periodically".