Upperlands school adopts Aston Villa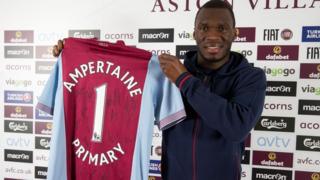 Aston Villa is to visit a primary school in County Londonderry, after the entire school elected to start supporting the football club.
Staff at Ampertaine Primary in Upperlands wanted to use football to help educate the children.
So last week headmaster Garry McIlwaine organised a draw in assembly to pick a team to get behind.
Villa were selected - aptly enough as the school uniform is claret and blue, the Birmingham club's colours.
Villa facts and figures will now be used in literacy, maths and PE lessons.
Children will also study a subject called 'World Around Us' learning about all the Lions (supporters) clubs around the world and also the birthplaces of Villa's first-team stars.
Pupils from the school have written to club chiefs at Villa Park to wish them well for the rest of the season and show them their new-found knowledge of the club.
Villa's American goalkeeper Brad Guzan was so impressed with the support from the kids that he posed for a picture with their letters - a photo which will be used on the school's new 'Villa Noticeboard'.
This will be a super supporter area where children can show their ongoing allegiance to the team.
Year five/six teacher Jacqui Speers said the school will email the club on the eve of each game to wish the team good luck.
'Exciting future plans'
Villa marketing manager Dan Meredith said: "It's great to think that we have a whole school following our fortunes - that's kids and staff too.
"When we found out about their scheme, we were delighted to get involved. Not only do we have more fans now, but we're helping children develop their learning for the coming years.
"That's very fulfilling. We have some exciting future plans for the school. They don't know about them yet - so we're keeping them quiet for the moment."
Teacher Jacqui Speers added: "We felt that football's popularity to boys and girls alike could prove useful in connecting with the kids in their learning projects.
"So we selected a club and we're really pleased with hindsight that it's Villa.
"There's no question that Villa has a rich history and one of the greatest traditions in football, having been one of the founding members of the Football League.
"Having dealt with the staff at the club now, it's also a very friendly and warm club to be involved with. The kids are certainly enjoying the football-based education - and if we're honest, so are the staff."
An Aston Villa coach will take two coaching sessions with the children on Thursday, officials will present gifts to the children and the club's official mascot, Hercules the lion will also meet pupils.