Stormont opposition no closer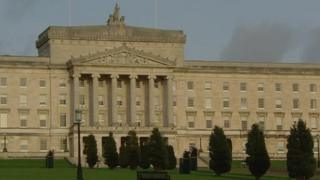 Should Stormont have an opposition? That was a talking point back in 2012 when the Ulster Unionists were choosing a new leader.
John McCallister advocated taking the party out of the Northern Ireland Executive unilaterally. Mike Nesbitt argued there should be a referendum on changing the Stormont rules.
Two years on, the opposition debate has been surfing a fresh wave of publicity.
That's partly a result of Mr McCallister's continuing work on a planned private member's bill on opposition, but more due to Lord Empey's decision to move an amendment this week to the Northern Ireland Miscellaneous Provisions Bill which could have paved the way for a change in the Stormont system.
Then this week, Ulster Unionist MEP Jim Nicholson penned an article in which he pledged his support for a Stormont opposition.
But in case anyone thinks the mandatory coalition including five executive parties is on its way out, they should bear in mind that an assembly committee looked at this in June last year and concluded that "there is no consensus at present to move to a formal government and opposition model, such as exists in Westminster".
Most members of the committee did agree to extend informal recognition to opposition parties via additional speaking rights and status, but Sinn Féin didn't support this conclusion.
Could a Westminster amendment be the way around this blockage?
On Monday night, the House of Lords discussed the latest proposal from Lord Empey.
If passed, this suggestion would have still required a request from the assembly to trigger any change in the Stormont system. But after a brief discussion, the Ulster Unionist peer withdrew his amendment.
For the lay person the Hansard of the debate makes for peculiar reading.
One after another, amendments are tabled on fundamental issues then withdrawn.
In principle, the peers could have extended the National Crime Agency to Northern Ireland, applied Westminster's reforms to the defamation law locally, ensured that future first and deputy first ministers must be jointly elected and changed the definition of a victim. In reality, none of this happened.
A cynic may conclude the septuagenarian peers were behaving like a student debating society.
But Lord Empey explained that the procedure in the Lords is for all amendments to be withdrawn at committee stage.
The Ulster Unionist peer is now hoping the government will adopt some of his ideas when the measure returns for further debate later this month. If the government doesn't bow in his direction, he is reserving the right to revive his amendment.
As opposition goes, it's hardly storming the barricades.
Back at Stormont, the TUV says the possibility of small parties and independents being allowed to band together into technical groups was knocked back just this week for a second time by the procedures committee.
Given the resistance to change, it still seems more likely any real shift will be brought about by a major party taking unilateral action, rather than the power brokers at Stormont or Westminster voluntarily rewriting the rules.