Ryobi creating 100 jobs in Carrickfergus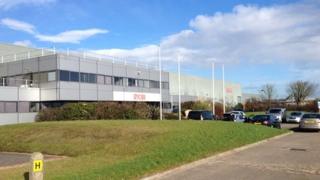 One hundred jobs are being created with a £32m investment in County Antrim.
Japanese-owned Ryobi Aluminium Casting makes parts for cars in the European market and is investing in its Carrickfergus plant.
The company is investing in new machinery to enable it to expand its product range.
The expansion brings the number of people employed at the Carrickfergus plant to 386.
Forty of the 100 jobs announced by the company have already been filled.
The investment is being supported by Invest Northern Ireland, which has offered more than £2m of assistance, part funded by the European Regional Development Fund.
First Minister Peter Robinson said: "Today's announcement reinforces the growing global appeal that we have as a great place in which to invest and to grow your business.
"We met with chairman Hiroshi Urakami and president Akira Urakami in December as part of our business mission to Japan, to discuss this project.
"I welcome this opportunity to thank Ryobi for its further investment in Northern Ireland and to assure the company of our continued support."
Deputy First Minister Martin McGuinness said meetings with the company had "provided the platform for us to strengthen government to government relations and attract inward investment".
"This latest investment by Ryobi Limited follows a £900,000 investment by the company in training also supported by Invest NI demonstrates a commitment to developing our people into a multi-skilled workforce.
This investment sends out a clear signal that the north of Ireland is a fantastic location for international businesses."
Enterprise Minister Arlene Foster said: "This latest investment is an endorsement of the skills and infrastructure available here, as well as proof that Invest NI's work to secure investment and reinvestment is working."