NI planning reforms will impact applications for out-of-town retail developments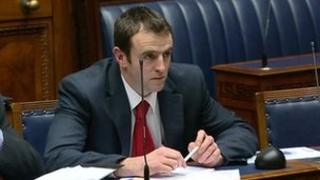 Reforms to NI's planning system are likely to make it harder for out-of-town retail developments to get approval.
They are part of broader changes to the planning system announced by the environment minister.
The retail policy adopts a "town centres first" approach and makes out of centre locations the least preferred option.
Mark H Durkan said its aim was to "protect and enhance" their viability.
One of Northern Ireland's most controversial and long running planning issues concerns the proposal to develop an out-of-town John Lewis store at the Sprucefield development.
Last year, the department store chain withdrew its plans following a controversial decision to limit further development in the area to "bulky goods", like furniture.
The Northern Ireland Independent Retail Trade Association (NIIRTA) said it welcomed the "town centre first" strategy proposed by the minister.
Empty shops
"This is something we have been campaigning for, over a dozen years and is good news for local traders and town centres," said NIIRTA's chief executive Glyn Roberts.
"Northern Ireland has not only the highest shop vacancy rate in the UK, but twice the UK national average.
"This new policy should make it harder for developers to gain permission for large out-of-town retail applications"
Mr Durkan's reforms involving distilling about 20 separate planning policies into a single Strategic Planning Policy Statement (SPPS).
It will act as a framework for local councils which will take control of most planning powers in April 2015.
The councils will be expected to undertake a "town centre health check" every five years to inform their own retail and town centre strategies.
The minister told the Assembly the SPPS would "provide clarity and certainty for all users of the reformed planning system".
The SPSS also confirms that there should a presumption against hydraulic fracturing gas exploration, or fracking, until the Department of the Environments is satisfied that there is sufficient evidence on all environmental impacts.
The SPSS will now be the subject of 12-week public consultation and is expected to be published in final form by end of 2014.