Quinn Group: Aventas petrol bomb attack cuts phone services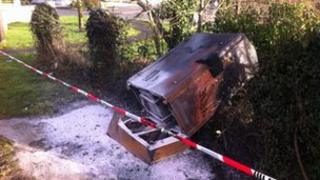 A petrol bomb attack close to the headquarters of the former Quinn Group in County Fermanagh has cut off phone and broadband services in the area.
It is understood a car carrying several men stopped at the Ballyconnell Road premises in Derrylin on Monday night.
Two petrol bombs were thrown at about 21:15 GMT, destroying network cable distribution boxes opposite the HQ.
About 200 customers are thought to be affected by the damaged boxes which provide phone and broadband services.
It appears that a vehicle was used to knock over the distribution boxes before they were set on fire.
The firm, which used to belong to Sean Quinn, was recently re-branded the Aventas group.
It is the latest in a series of attacks on properties formerly owned by the Quinn family whose wide range of businesses collapsed in 2011.
Last month, a bus was set on fire at the entrance to three of its businesses in Rakeelan, Ballyconnell, in County Cavan.
In December, a fuel tanker was set on fire after being driven into the former headquarters of the Quinn Group in County Fermanagh.