£10m Arvalee Special School in Omagh gets go-ahead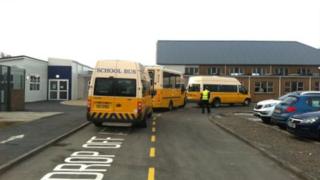 Planning permission for a new £10m building for Arvalee Special School in Omagh, County Tyrone, has been approved by Environment Minister Mark H Durkan.
It will be the first school to be built on a shared education campus at Lisanelly, the site of the old Army camp in the town.
The special school was damaged in a fire in 2012, but it reopened last year with temporary classrooms.
The school caters for about 100 children with learning difficulties.
"The development of this new school, estimated to cost around £10m is a major boost for the pupils, staff and parents of Arvalee School and Resource Centre who will relocate from their existing school building over to this new purpose built facility," Mr Durkan said.
"The opinion to approve the application was reached in less than six weeks which, yet again, demonstrates that my reform of the planning system is working.
"I have pledged to create a fast, fair and fit-for-purpose planning system that creates a better environment and a stronger economy. This speedy decision on this development helps to do this."
Education Minister John O'Dowd said this was "another significant milestone in the regeneration of the area".
"Construction work is due to commence later this year with a contract period of approximately 16 months. This will be welcome news for the pupils, staff, parents and wider Arvalee school community as they plan for a bright future on the shared site," he said.
Work to clear the site at Lisanelly began in October 2013.
Phase one will see the construction of the new school for Arvalee Special School, as well as a resource centre.
Six schools, catering for 3,700 pupils, will eventually be built and based on the site.
They are Arvalee School and Resource Centre; Loreto Grammar School; Omagh High School; Sacred Heart College; Omagh Academy and Christian Brothers Grammar School.
The new site will include some shared areas, such as a school of performance, sports facilities and an ecology centre.