Disabled girl 'stranded' after Belfast car theft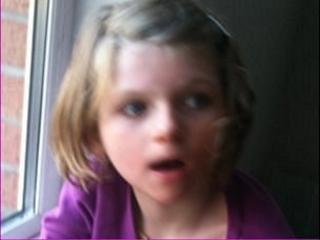 The mother of a disabled child has said she is devastated that a car adapted especially for her daughter's use has been stolen.
Anne Gribben said the car was taken from outside the family's home at Black's Road, west Belfast, early on Sunday morning.
Aoife, 7, has Angelman Syndrome. She cannot talk, needs help to walk and has severe learning difficulties
Her pram and car seat worth a total of £600 were also inside the car.
Her mother told BBC's Good Morning Ulster that the family were "devastated".
"We were completely shocked. It was complete devastation, I was just so sick to think that was it was stolen," she said.
Mrs Gribben said that without the car and her pram - a special one bought for her - it was impossible to take her daughter out.
"Once she is home from school, we cannot leave the house," Mrs Gribben said.
"Aoife loves to get out and she is very confused at the moment. Apart from school, she has not been out since Saturday evening. We would normally go shopping or go to the park. We would love to get the pram back, at least that would be something, we could get out."
Mrs Gribben has appealed to the thieves to bring the family car back with everything inside.
"If they could even leave the pram and our belongings somewhere that we could find them, that would be wonderful," she said.