Belfast City Council votes to freeze rates again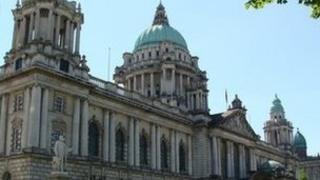 Belfast City Council has voted to freeze rates for residents for the second year in a row.
It is the first time in the council's 41-year history that there has been no increase for two successive years.
It is also the last time the council in its current guise will strike the rate due to local government reform planned for next April.
Councillor Gavin Robinson said the council was aware many businesses and citizens faced economic uncertainty.
"Tonight's rates freeze is an indication of our willingness to provide support and help," Mr Robinson, chair of the council's Strategic Policy and Resources Committee, said.
"A zero increase is effectively a 2% cut in real terms. When inflation is considered and when taken with last year's rates freeze, when inflation was 2.7%, this amounts to almost a 5% reduction in the district rate during the past two years."