Poison parsnips beach warning issued by Larne council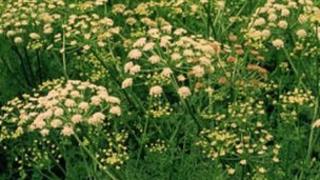 Larne Borough Council has put up warning signs after a dog reportedly died from eating hemlock water dropwart weed or 'poison parsnips'.
They are urging beach users and dog walkers to watch out for the weed, which has washed up at Drains Bay and neighbouring Carnfunnock Bay.
The Environment Agency said it supported the precautionary measure.
Dropwort grows along river banks and may have been washed onto the beach during recent flooding.