John O'Dowd refuses to apologise over Jim Allister letters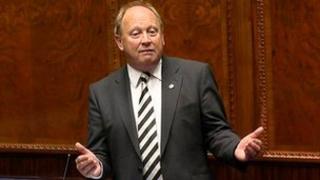 The Sinn Féin education minister is refusing to say sorry to the TUV leader for taking 57 days to answer a letter.
John O'Dowd failed to do so, despite the Northern Ireland Ombudsman saying Jim Allister was owed an apology.
The ombudsman ruled the department was wrong as it failed to meet its customer service standards that correspondence be answered within 15 days.
Mr Allister complained to the ombudsman over the department's handling of two letters over constituency matters.
The Traditional Unionist Voice leader had written to the department's permanent secretary as he had no wish to deal directly with the Sinn Féin minister.
The minister responded in line with protocol, but gave priority to letters sent directly to him.
One letter took 57 working days to answer; the other 23.
Ombudsman Tom Frawley concluded it was unacceptable that the department had treated Mr Allister's correspondence differently from other MLAs; that he had suffered an injustice and the delay amounted to maladministration.
He recommended a written apology from the department.
"I think it's a breach of the ministerial code because under the code the minister is required to treat everyone equally," Mr Allister said.
"It's quite clear this minister has decided to treat the TUV MLA very unequally.
"He's been caught out on that, the ombudsman has ruled against him and yet he doesn't have the strength or character to say he was wrong or to apologise."
However, the minister, Mr O'Dowd, told the BBC he was only sorry so much time has been wasted on this issue.
"Jim Allister is more than welcome to call into my office on any occasion and sit down and talk together like adults around this whole issue," he said.
"But I have to say the amount of time that has been spent on this nonsense is regrettable.
"In my opinion, it just should have been dealt with in a more mature fashion by Mr Allister from the start and I'll not be wasting any more time on it."