George Chittick's Irish language view 'shared by many'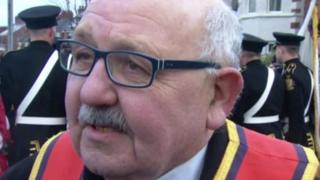 The Orange Order's director of services has said comments about the Irish language by the order's leader in Belfast are shared by many Protestants.
On Saturday, George Chittick said: "A word of warning to Protestants who go to learn Irish... it's part of the republican agenda."
He was speaking during a loyalist protest in north Belfast.
The controversial comments have been condemned by Irish language enthusiasts and some politicians.
However, the Orange Order's David Hume defended Mr Chittick's views.
"I think George is articulating a belief, certainly within a section of the Protestant community, that there is this cultural onslaught if you like and that Irish language has become part of that," he said.
"I would also recognise, as I think most reasonable people would, that there are a lot of very dedicated Irish language enthusiasts there learning the language.
"But we also have to recognise that there has been a republican agenda and what we would see as Long Kesh (prison) Irish."
Mr Chittick, the order's Belfast County Grand Master, said his remarks were aimed at those seeking funding for Irish language projects.
However, culture minister Carál Ní Chuilín said Mr Chittick's comments were very disappointing. She said the Irish language belonged to everyone.
"We've had people from all backgrounds who have openly learned the Irish language and are happy to go to classes," the Sinn Féin minister said.
"It's about shared future, shared history, shared culture, the language belongs to us all and nobody, regardless of who they, are has a right to colonise it and the comments that George, and others, made need to stop."
'Very surprised'
On Sunday, an Irish language development officer in east Belfast said many people there were upset by Mr Chittick's comments.
Linda Ervine said: "I know a lot of people in east Belfast have been offended by this."
Ms Ervine, who is development officer at a recently opened Irish language centre in east Belfast and is married to the former PUP leader Brian Ervine, said she was "very surprised" by Mr Chittick's comments.
She told BBC Northern Ireland's Sunday Sequence programme: "I had talks with the Orange Order last year and found them to be very interested in my work.
'Wake-up call'
"I know a lot of people in east Belfast have been offended by this, I've had a lot of messages overnight from people who are quite angry at Mr Chittick's remarks.
"I wish he would come and address them to us, I'd love him to come and visit our centre because I think it would be a real wake-up call for him.
"You come into our classroom and you have members of the DUP, members of Alliance, members of the UUP, members of the PUP all learning Irish."
The SDLP's Irish language spokesman, Dominic Bradley, said he was saddened by Mr Chittick's remarks and called for him to apologise.
"I have worked with people from the Protestant community in the promotion of the language and have found them to be most knowledgeable, dedicated and genuine in their efforts," he said.
Basil McCrea, leader of NI21, also criticised Mr Chittick's remarks.