Francis Rowntree inquest: Rubber bullet shooting witness sought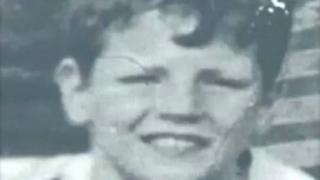 An appeal has been issued to trace a schoolboy who said he was with his friend who died after being struck by a rubber bullet more than 40 years ago.
Eleven-year-old Francis Rowntree was hit by a rubber bullet fired by a soldier in west Belfast in April 1972.
A fresh inquest is to take place, and the Coroners Service wants to contact a man who would have been 14 when he provided a written statement.
The man attended St Peter's Secondary School and would now be in his 50s.
In a statement, the Coroners Service said his information "may be important to the inquest and to the Rowntree family".