Rainey Endowed pupils in test marks mix-up get correct results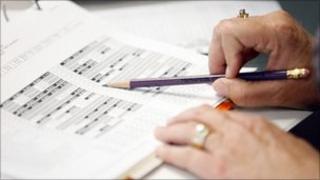 Thirty-four primary seven pupils who received the wrong results for their entrance test to a grammar school have now been given the correct marks.
All the children had taken the test at Rainey Endowed School in Magherafelt, County Londonderry.
The mistake has been blamed on a technical fault.
School prinicipal Mark McCullough up to six or seven pupils got lower marks in the second set of results.
"We will ensure those are addressed through the admissions process," he said.
But Mr McCullough said the "vast majority" of the pupils who received incorrect scores had their marks increased.
One of the pupils whose marks were lowered was the son of Ulster Unionist MLA Sandra Overend.
"It has been a very distressing time," she said.
"Some got better results than they got first thing in the morning, and some got worse results.
"For those especially who got worse results, it's heart-wrenching for them."
In a statement GL Assessment said it "would like to apologise sincerely to the candidates affected by this error, and to their families.
"When the situation was made known to GL Assessment early on Saturday morning, steps were immediately taken to ensure accurate information was provided to the centre as soon as possible.
"The centre was able to provide correct result slips for the 34 candidates later on Saturday morning.
"GL Assessment has verified and confirmed the outcomes issued to all candidates from this centre as well as those from all other centres."
Academic selection
Thousands of children across Northern Ireland received the results of the entrance tests for grammar schools on Saturday.
A letter telling parents which school has accepted their child will arrive on 24 May.
The final official 11-plus transfer test in Northern Ireland was held at the end of 2008, but grammar schools still use academic selection.
It is the fifth year in succession that the schools have used the unregulated exams.
Since then there have been two unofficial replacement systems. GL Assessment is used mostly for Catholic schools and the AQE (Association of Quality Education) sets a different exam for the other schools.
Parents who are unhappy with the test result can ask for a re-mark.
They have to apply within one week for the AQE and within two weeks for the GL Assessment test.