Teenager 'kicked police driver in head' in Belfast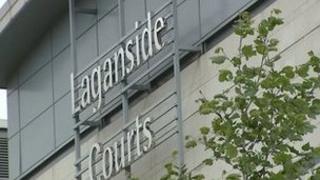 A teenager arrested for shoplifting in Belfast almost caused a crash when he kicked a police driver twice in the head, a court has been told.
A detective told the court police were driving past city hall when the 17-year-old kicked the female driver, making her lose control of the vehicle.
The officer said the youth was "biting and spitting" at police throughout the arrest and had to be restrained.
The teenager, who cannot be named, was remanded in custody.
He is accused of three counts of assaulting police and one of resisting police.
He is also charged with stealing £69 worth of mascara from Boots on Donegall Place on 31 January, £7 of perfume from Poundland as well as vodka and hair straighteners from Sainsbury's in November last year and breaching an anti-social behaviour order.
In objecting to bail, the detective told Belfast Magistrates Court that the 17-year-old had committed 19 offences last year, had breached bail conditions nine times in 2013 and three further times in January this year.
Remanding the teenager into custody to appear in the Youth Court on Monday, a district judge said that despite the "presumption of bail" due to his age, "there's a very, very real risk of reoffending".