Protestant Coalition: Look at threatened teacher's politics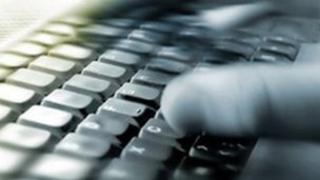 Sinn Féin has condemned online abuse targeted at one of its councillors who teaches in north Belfast.
The party's education spokesman, Chris Hazzard, said the Boy's Model School teacher had been subjected to a witch hunt by the Protestant Coalition.
That was rejected by Willie Frazer from the coalition.
He said he condemned threats made against the teacher, but her role at the school should be looked at because of her political views.
The Protestant Coalition's website states it is an "anti-politics, political party" whose priority is "the empowerment of the PUL (Protestant Unionist Loyalist) community".
'Too frightened'
Gerry Murphy, of the Irish National Teachers Organisation, said no-one should have to put up with being threatened.
He called on those responsible to lift the threats.
He said the woman was "too frightened and too upset" to return to work at the school.
"This girl is only interested in carrying out her professional duties," he said.
"She is committed to her children, she is committed to her profession.
"Her health and safety has to be paramount here.
"It's a very bad reflection on what our future may be."