Belfast's St George's Market: Best in United Kingdom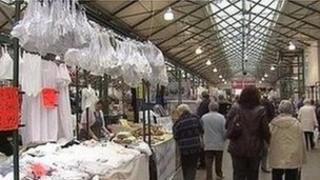 St George's Market in Belfast has been named as the best large indoor market in the United Kingdom.
The Victorian market beat off opposition from internationally-famous London markets, Spitalfields, Billingsgate and Borough.
St George's, owned and operated by Belfast City Council, was awarded the title by the National Association of British Market Authorities (NABMA).
It houses 170 traders, six shops and a restaurant, and sustains 385 jobs.
Cllr Deirdre Hargey is chairwoman of the council's development committee which oversees St George's Market.
'Fiercely proud'
She described the award as a "fantastic and well-deserved honour".
"We in the council are fiercely proud of the market, and it is great news for us to see it recognised in this way by our peers in the markets industry," she said.
"I would like to pay tribute to the market staff for all their hard work, and in particular to the traders, whose dedication to St George's is the key to its continuing success."
St George's opens on Friday, Saturday and Sunday and attracts about 600,000 visitors a year.
The council estimates that the market benefits the Belfast economy by about £15m each year.
NABMA is the trade body which represents local authority-operated markets across the UK.