Secret dumping of radioactive waste in NI posed no risk says DoE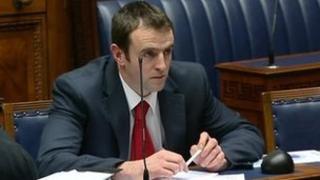 The secret dumping of radioactive waste in Northern Ireland posed no risk to human health, a DoE review has found.
The practice was revealed in previously confidential government files from 1983, that confirmed controlled burials had happened in Belfast and Londonderry in the early 1980s.
The review said the toxic material had been allowed to decay for long periods before its disposal in landfill sites.
The inquiry was ordered by Environment Minister Mark Durkan.
The file, released in December, contained details of a parliamentary question from 1983 which detailed disposal of radioactive waste at Duncrue Street in north Belfast and at Culmore Point, outside Derry.
As a result, the minister asked his officials in the Northern Ireland Environment Agency (NIEA) to investigate the issue.
"I commissioned this urgent report in December, to establish the facts about radioactive waste disposal at these two sites," Mr Durkan said.
'Conservative approach'
"The report has now been completed and concludes that disposals carried out by way of 'controlled burial' at the two landfill sites were in accordance with relevant authorisations and guidance available at the time. In NIEA's view, this practice presented no plausible risk to people or the environment."
The report said there was evidence a "conservative approach" had been taken by regulators and by holders of authorisations.
The Public Health Agency was also consulted and supported the NIEA's view in respect of human health.
Sean Carr, chairman of Derry City Council's environmental services committee, welcomed the clarification provided by the report.
"I would like to thank the environment minister for his prompt response in dealing with this important issue and providing reassurance to the public in relation to any potential concerns they may have," he said.
The files from 1983, gave details about the radioactive materials that had been buried in Belfast and Derry.
At Duncrue Street, Belfast, the memo noted "a number of controlled burials of hospital/university waste of short half-life, together with small amounts of industrial waste were arranged."
The total activity disposed of was approximately 180 millicuries (a unit of radioactivity), of which the bulk comprised radioactive iodine with a half-life of less than two months.
At Culmore Point, Derry, two consignments of hospital waste had been disposed of by controlled burial; the total activity amounted to 170 microcuries.
The file noted that a number of hospitals, fertiliser plants and both of Northern Ireland universities had been authorised to dispose of radioactive waste by controlled burials at these sites.