MJM Marine buys Mivan factory and assets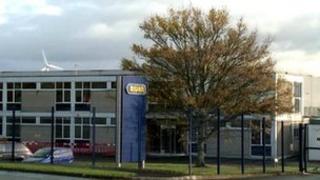 The assets of Mivan, the Antrim construction firm, have been sold to the MJM Group, based in Newry, County Down.
Mivan went into administration earlier this month and later closed with the loss of about 250 jobs when it could not be sold as a going concern.
However, MJM has now bought Mivan's factory premises.
MJM will continue to trade under the Mivan name and will create between 40 and 50 jobs.
The Newry firm specialises in marine interiors and fitting-out cruise ships, which was also one of Mivan's main businesses.
'Mivan brand'
MJM managing director Brian McConville commented: "MJM have built up a strong reputation as a global player in the industry and there are obvious synergies between our two operations.
"There are exciting opportunities ahead to re-establish the Mivan brand in existing and new international markets."
Mr McConville founded MJM in 1983, while working as a joiner in Rathfriland, County Down.
Initially, his firm was based in a shed, but now has a 100,000 sq ft factory at Carnbane in Newry.
It also has operations in Antibes in the south of France and Poland.
MJM's first customers were primarily UK and Irish ferry and ship companies.
In 2002, following several years of small contracts in USA, the company secured a big refurbishment contract with a large American cruise line company.
It has also completed interior works at luxury hotels such as the K Club in County Kildare.
Last year MJM had a turnover of £20m, delivering profits of £720,000.
The administrator of Mivan, Peter Allen from Deloitte, said: "We had initially hoped to achieve a sale of the business as a going concern, but this sale of the assets will provide an opportunity to continue the Mivan name and hopefully the Antrim facility.
"The assets have been sold as a package to a strong player in the industry - and potentially this will provide a platform for new jobs to be created."
The Mivan assets included the Antrim factory, equipment, other property, and the firm's trading name.
The deal has been welcomed by Enterprise Minister Arlene Foster who said it was good news for Northern Ireland's construction industry and for the Antrim area.