'Gay suicides' email: Lecturer disappointed at row with DUP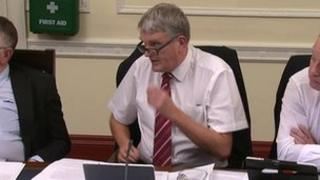 A university lecturer has said he is disappointed that a private email has been used in an attempt to discredit his research on human trafficking.
DUP MLA Jim Wells confronted Dr Graham Ellison of Queen's University Belfast over the email at Stormont's justice committee on Thursday.
The email claimed the DUP may have been responsible for young gay and lesbian people killing themselves.
Dr Ellison said: "To say that I was shocked would be an understatement."
He sent the email "about seven or eight months ago" to a woman who had previously given evidence to the justice committee in support of a human trafficking and prostitution bill that is being sponsored by DUP MLA Lord Morrow.
The justice committee was discussing the bill on Thursday. If the bill is passed it would make it illegal to pay for sex in Northern Ireland.
'Privacy issue'
In the email, Dr Ellison said: "Why have you hooked yourself up to that lot in the DUP? Have you any idea what they stand for in terms of social issues around women's rights; women's reproductive rights issues and so forth?
"In terms of gay and lesbian politics that I have an interest in, they are one of the most repressive and socially backward parties you could imagine."
Dr Ellison, who apologised to the committee for the tone of the email, told BBC NI's Good Morning Ulster on Friday: "It wasn't particularly pleasant to have private correspondence that was sent to someone else actually read out in a public meeting. There is a privacy issue here.
"I wasn't told how he (Mr Wells) obtained this or indeed who gave it to him, but to say that I was shocked would be an understatement."
Dr Ellison said of the email: "I suppose my point was to highlight that in my opinion her views as a radical feminist and those of the DUP were worlds apart. And I thought there was a public interest issue in exploring those issues with her."