'Significant interest' in Shackleton Barracks, Ballykelly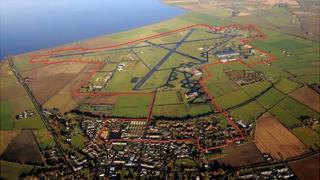 There have been a "significant number of expressions of interest" in a former army base in County Londonderry.
Shackleton Barracks, Ballykelly, was given free to the Northern Ireland Executive by the Ministry of Defence in 2011.
After a failed attempt to sell the site, the executive recently sought suggestions for its redevelopment.
It asked estate agents to explore options for its future.
It said what has been submitted, via agents BTWShiells, covers plans from the commercial, agricultural, leisure and community sectors.
"All expressions of interest are being considered.
"Options will be provided to ministers to allow them to determine the suitability to go forward with development plans," said an OFMDFM spokesperson.
"It is recognised that value for the site is not just monetary but economic and social."
Relocation
The executive has not ruled out selling the site.
The 720-acre site contains a range of office buildings, hangars and accommodation blocks, vacated by the army in 2008.
BTWShiells began "a soft market testing exercise" last November that concluded last week.
Stuart Draffin from BTWShiells said: "We are very encouraged by the level of interest from a broad range of potential end users, we hope to be able to revert to all parties who submitted an expression of interest in the near future".
A small part of the site has already been earmarked for the relocation of the Department of Agriculture and Rural Development from Belfast.
Shackleton Barracks was an airfield during World War Two and remained a Royal Air Force station until 1971 when it was handed over to the Army.