Formula 1 star Eddie Irvine tells of battle with seven foot shark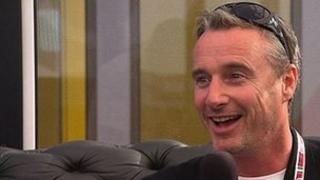 Former Formula One racing driver Eddie Irvine has described how he faced the chase of his life after he fought off a 7ft (2.1m) shark with a spear.
The retired racing star from Northern Ireland was swimming and spear fishing for dinner near his Bahamas home.
Suddenly, the 48-year-old came face to face with the shark.
"I hit a big snapper, but the spear went right through it. A big ray came past me and behind it was a 7ft lemon shark," he said.
"It was swimming more aggressively than I had seen before.
"My island is surrounded by them, but normally they are just three or four footers.
"I watched him and started making for shore and he started to follow me - I swam backwards keeping my eye on him and he circled again - then he just came straight for me.
"There was nothing I could do until he got within about 3ft (0.9m), when I could jab him with my spear."
Irvine, who drove for Jordan, Ferrari and Jaguar over a nine-year Formula 1 career, said he hit the shark "somewhere on the nose" and it turned away but circled back. He said he scrambled on to nearby rocks as the shark returned once more.
"There are lots of sharks here," he said, "I saw a 12ft (3.7m) tiger the other day from the boat."
Earlier this month, Irvine, 48, faced trouble of a different kind when he was sentenced to six months in jail by an Italian court.
He was convicted after a brawl with an Italian man in a Milan nightclub.
Irvine, and Gabriele Moratti, the son of a former Milan mayor, were found guilty of "mutual injury".
It is not yet clear if the retired racing driver will actually have to serve time in jail.