Justice Minister David Ford to consult on PSNI job plan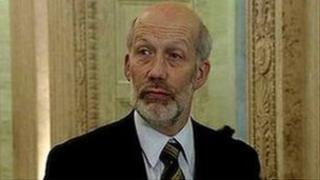 Stormont justice minister David Ford is to consult over the next two weeks about his plans to change criteria for the job of NI's chief constable.
At present applicants must have served at assistant chief constable rank for a minimum of two years outside of NI.
The justice minister wants to make this "desirable" rather than mandatory.
The move prompted strong criticism from the DUP and Sinn Féin, who accused Mr Ford of usurping the role of the Policing Board.
The current PSNI Chief Constable, Matt Baggott, is retiring in September.
Within hours of Mr Ford's announcement on Monday, the first and deputy first ministers said the decision must be considered by the Executive as a whole.
Ministers discussed the matter on Thursday, when they agreed Mr Ford would consult on his proposal.
After the meeting, Mr Ford said he had not interfered in the role of the Policing Board but "enhanced it".
He said he had "tackled an issue of potential inequality, on the advice of the Equality Commission", and had "consulted deeper and wider than I was required to do".
"For whatever reasons, and I fear they are only political reasons, the DUP and Sinn Féin have determined that I must bring my final decision to the executive for it to consider - I will do so," he said.
"But I trust that the executive will recognise that it is the right decision, and that I was right to make it.
"The executive must ensure that it does not allow politics to be dragged into the recruitment of a chief constable, nor the role of a justice minister."
An spokesman for the Office of the First and Deputy First Ministers said: "The executive agreed that the justice minister takes forward the necessary procedural steps and consultations to allow a final decision to be taken in timing and substance by the Executive."
Elsewhere at Stormont, the justice committee has asked Mr Ford to explain his plans to change the recruitment criteria.
Mr Ford's amendment would have widened the pool of potential internal PSNI applicants.
Potential applicants would, instead, have to have successfully completed the Strategic Command Course, or an equivalent.
As it stood, only one senior PSNI officer, Assistant Chief Constable George Hamilton, was eligible to apply to succeed Mr Baggott as he served almost three years at the same rank in Scotland.
The amendment would mean other high-profile PSNI assistant chief constables who have completed the Strategic Command Course, including Will Kerr and Drew Harris, could apply.