Guinness sales fall in Ireland blamed on hot weather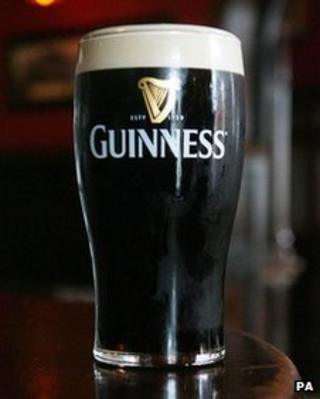 It is unusual to blame the sunshine in Ireland for anything, mainly because it so rarely appears.
While ice cream sellers may have made bumper profits during last summer's scorching weather, it appears the heat turned the Irish off their own iconic drink.
Sales of Guinness in Ireland fell by 6% in the last six months of 2013, and the brand's parent company Diageo is blaming the hot weather.
The heat does not seem to be putting off Guinness drinkers in Africa and east Asia, which are target markets for the company, and are still seeing growth.
The Irish must have a different heat and stout tolerance rate.
The picture is looking considerably better for Diageo's Northern Ireland-based whiskey company Bushmills.
It has delivered a particularly strong performance in Russia and eastern Europe, where net sales for the brand more than doubled.
Bushmills is the only one of Diageo's whiskey brands that saw an increase in sales in the last six months.
Diageo had previously been criticised for focusing promotion on their Scotch whisky brands, like Johnnie Walker and Buchanan's, but now Bushmills is performing as best in class.
The company says growth was driven by the development of Bushmills Honey, which aims to introduce the drink to a wider market.
One of the world's biggest drinks companies, Diageo increased its operating profit in the last six months to more than £2bn.