Banned Bible play: Censorship, or a question of standards?
It is the play that would not go away - cancelled by councillors over concerns raised by some Christians that it mocked God, before being reinstated after an unholy backlash.
Reverend David McIlveen, a retired Free Presbyterian minister, said it was not a matter of censorship but standards in opposing the Reduced Shakepeare Company's comic play The Bible: The Complete Word of God (Abridged) at Theatre at the Mill in Newtownabbey, County Antrim.
He told BBC's The View: "People do have standards and nobody talks about that as being censorship or a banning.
"It is a recognition that people are offended whenever certain standards are compromised and in this case we believe those standards of godliness, of purity, of keeping the Bible a preserve message, they have been compromised."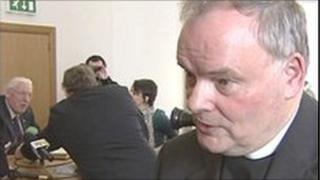 He was disappointed that, after a very public outcry at home and abroad, and a real-life political drama over artistic freedom, the play went ahead to sold-out crowds.
Tim Loane, a Belfast playwright, was disgusted the play was cancelled in the first place.
"Politicians really should just stand back and have nothing to do with certain aspects of our society," he said.
"It's none of their business. It's no politician's business to tell the public what they can and can't see or what piece of art can't be made.
"I'm very pleased the decision got reversed and... embarrassed the rest of the world got to see us in that light again."
Despite controversy in Newtownabbey no-one turned up on opening night to protest against the Reduced Shakespeare Company's production. But it is not over yet.
There is to be a review of how the theatre's artistic board operates. There are concerns that with councillors on that board, it might mean censorship by the back door by not booking plays in the first place.
"That's quite terrifying," said theatre critic Jane Coyle. "The thought that local authorities are now going to take it upon themselves to act as essentially censors of artistic activity is very disrespectful to the arts community."
Mr Loane, who has written for television and the theatre and whose work includes political satire such as To Be Sure and Caught Red-Handed, had a message for politicians seeking to interfere with the arts.
"Can they not just back off and let theatres do what theatres do? It makes me angry. You don't want a health minister telling a surgeon what he is doing in his theatre. You just don't."
So, should our politicians interfere with the arts and if so how and when?
The View asked Arts Minister Carál Ní Chuilín of Sinn Féin for an interview but she was not available.
Michelle McIlveen, the DUP chair of Stormont's culture arts and leisure committee, was not available either, nor was her deputy, her DUP colleague William Irwin.
The minister did issue a statement echoing concerns from the Arts Council when the Newtownabbey play was cancelled.
Basil McCrea of NI21, who sits on the culture arts and leisure committee, said politicians should tread carefully when it comes to artistic freedom, as we already have laws to limit free speech to protect the vulnerable.
He said he is not in favour of censorship, adding that we live in a democracy, not a theocracy. "There was an old quote from Winston Churchill when they were saying 'we should cut the arts budget for the war effort', and he said 'but what would we be fighting for?'"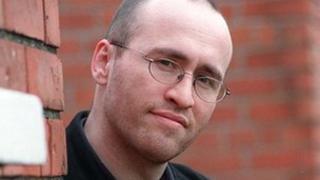 Mr McCrea added: "We live in a democracy, a pluralist democracy, and people should be allowed to express their opinion, and if you don't want to go don't go."
What about those who do go to the theatre? What can they expect in future?
There are fears among artists that our politicians are not interested in arts for arts sake. Some complain privately about politicians using the arts to promote their own agendas by tying funding to projects that promote suicide prevention or social inclusion.
Tim Loane said he shares those fears, adding artists are not meant to be social workers.
"I fear the arts is becoming more about - from politicians' point of view - about social engineering and about aspects of equality, or even worse the reconciliation industry we are surrounded by.
"That is not what the arts is for, or what the arts can do. It does not operate to a government agenda. It has to be its own thing - it has to have independence."
While some in the arts may stay silent when public funding comes with strings, for fear of losing out, others will speak out when art offends their sensibilities.
For that section, there is an expectation that the row and the review in Newtownabbey will have consequences. "I think this teaches the council a very important lesson," said Mr McIlveen.
The View is on BBC One Northern Ireland on Thursday 30 January at 22:35 GMT