Coleraine abuse trial: Father 'numb' at rape allegations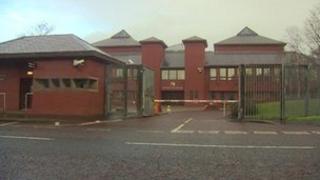 A father accused of sexually abusing his children, and allowing other men to do so, said he was "numb" with shock when he first heard the allegations.
His son and daughter allege he raped and sexually abused them frequently during the 1990s.
Their uncle and another man described as a family friend are also accused of sexually abusing the girl.
The three men face a total of 56 charges including rape, gross indecency and cruelty.
The uncle told the jury at Coleraine Crown Court that his niece is either lying or mistaken.
It was put to him that he was present at parties where he raped her.
Allegations
He replied: "What I am saying is that I never done it so there must be another explanation.
"I have never in my life touched that wee girl... I hardly knew her.
"I was never at parties in any house where children were abused."
He also told the court that he knew nothing of the allegations against him until he was arrested in May 2012.
Under cross-examination a prosecution lawyer put to him that on 20 January 2014 he pleaded guilty to a series of sex offences against his sister during the 1970s and 1980s, including 10 counts of indecent assault, one count of attempted rape and two counts of gross indecency - charges to which he originally pleaded not guilty.
He said it was always his intention to enter a guilty plea regarding those offences and the only reason he did not was because of the more recent allegations made by his niece, which he denies.
His brother - the father of the two alleged victims - is charged with offences against both children.
'Party animal'
The man said that after his marriage broke up and his former wife had a new house the children never stayed over with him.
He said: "They weren't there in '94, they weren't there in '95, they weren't there in '96. They didn't stay up because I was a party animal."
He said there were parties after nights out at his house but said "it didn't involve children - it was men and women".
When allegations of abuse against his daughter were first put to him by police in 1998 he said he was "mystified".
The defendant said he told the police if they thought he had done it to "go and get a medical on her". He said he told them four times to get a medical.
He added: "If they had done that I wouldn't be sitting here today."
The father told the court that when he first heard the allegations he could not believe it.
"I thought this would be cleared up in 10 minutes - I never even thought I would need a solicitor so I didn't ask for one."
Both the father and the uncle have pleaded guilty to a series of sexual offences against their sister in the 1970s and 1980s.