Northern Ireland farming income up by almost a third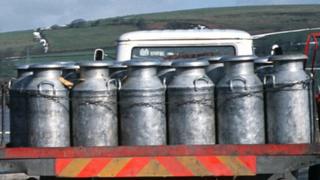 There has been a marked recovery in the Northern Ireland farming industry, which saw its income rise to £298m in 2013, an increase of 31%.
Dairy farming is still the largest contributor - the average farm-gate milk price increased by 21% though the volume of milk produced was unchanged.
Beef and sheep producers also saw some recovery in farm-gate prices.
The value of field crops increased by almost 8%, driven by a bumper harvest for potatoes.
Farmers also benefited from falls in the price of fuel and fertiliser.
Subsidies from the Single Farm Payment totalled £259m, around 87%, of farmers' total income.
The new figures were released on Thursday by the Department of Agriculture and Rural Development.
They also show a 10% rise to £1.9bn in the total gross output for NI agriculture in 2013.
Agriculture Minister Michelle O'Neill welcomed the figures.
'Decent summer'
She said: "After the collapse in farm incomes during 2012, it is heartening to see incomes recovering.
"Last year did not begin well, with the heavy snowfall causing havoc and the late spring leading to severe shortages in livestock fodder.
"However, a decent summer helped to turn the situation around, particularly in the dairy sector."
She added: "Currently farm input costs remain high for many farmers and I am aware that more work needs to be done to improve performance across the entire farming sector.
"In the coming months, I will be seeking the support of the executive in building a stronger industry that can face the future with confidence, and which offers scope and opportunity for those who wish to develop their businesses and careers in this sector."